Meal recipient Becca and Beverly Kim
This article was originally featured on Plate.
Three months into the pandemic—after furiously pivoting their Korean-inspired restaurant Parachute and tasting-menu spot Wherewithall to sell reheatable family meals and feed frontline workers—Beverly Kim and Johnny Clark closed both of their Chicago restaurants for more than two months. And, for the first time after decades spent doggedly establishing herself as a fine-dining chef then bootstrapping two independent restaurants with her husband while raising three boys under 10, Kim had a little time to think—about how to change an industry that almost defeated her.
"I started ruminating on this ongoing problem of how hard it is for chefs to balance family life and how that contributes to this huge lack of female head chefs in our industry," Kim says. "I had a partner who was supportive of my career and willing to stay home and share babysitting when I got those opportunities to advance. But a lot of working moms especially are thinking, 'Is this worth it?' The financial burden combined with the lack of a community that understands makes so many of us drop out."
Despite that 51 percent of students at the Culinary Institute of America are female, women occupy just 6.3 percent of the head chef positions at prominent U.S. restaurant groups, and 22 percent of lead chef/cook positions. Restaurants have a long, documented history of unfriendliness to women—ranging from widespread sexual harassment to nonexistent family leave policies, fundraising challenges for female owners and the void in reliable options for childcare outside the 9-to-5 workday.
To address systemic gender inequity in professional kitchens, Kim and Clark joined forces with Kim's longtime mentor, Sarah Stegner—the chef/co-owner of Prairie Grass Cafe in suburban Wilmette, Ill., and a working mother herself—to found the Abundance Setting. Named for the notion of creating room for everyone, the nonprofit supports culinary career advancement for working mothers while helping them maintain life at home through food relief, career mentorship, networking, and connection to resources like Small Business Administration loans. The organization launched a GoFundMe campaign in October with a goal of $10,000 to cover the first few months of meal relief and educational programming. As of publishing, they've raised more than $6,400.
The Abundance Setting takes a tiered approach to supporting aspiring women chefs. Kim, Stegner, and Debbie Gold, executive chef of Found Kitchen and Social House and The Barn, will prepare three reheatable family dinners for three participants once a week. Funds raised from donations will cover the cost of sourcing local ingredients (focusing on female farmers) and the $25/hourly labor required to prep and deliver wholesome, reheatable meals like sweet potato shepherd's pie and spicy beef with refried beans and root vegetable slaw. They'll reassess need every three months through regular interviews with recipients.
Kim and Stegner say it was tough to find pilot participants given the general lack of women aspiring to be chefs—no doubt compounded by the pandemic, which has derailed countless culinary careers due to restaurant closures and deep staff cuts. As of mid-November, they had three; they will continue to accept applications through the Abundance Setting's website.
During preliminary meetings, the recipients cited the cost of quality childcare and long hours away from family as the main challenges they face while advancing their careers. One said the program will introduce her kids to new flavors—something she rarely has time to prioritize. Another said meal relief would help her reclaim much-needed quality time with her partner and son—an all-too-familiar story for Kim, who grappled with long, taxing hours away from her husband and young kids as she advanced through kitchens.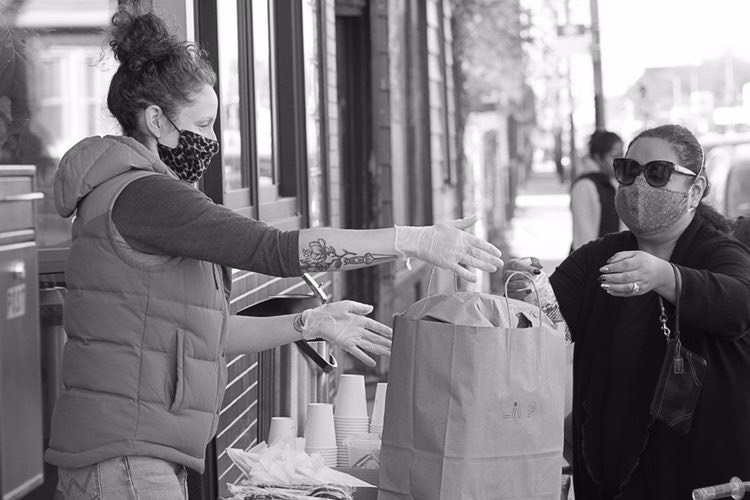 Wherewithall manager Jessica Line passing out food (Stuchly Photography)
"This is why the mission isn't just to support a sustainable career, but also a sustainable life at home," Kim says. "We are raising children, too. It shouldn't be that the kid is sleeping at the restaurant. It's crazy what people have to go through to raise kids in this industry. It's a pattern, and it shouldn't be."
A second educational tier builds on the economic relief of the first, matching participants with mentors and offering access to tools and resources including hotlines and online panels to help with everything from fundraising or accessing bank loans to legal and marketing advice. This tier is also where Kim and Stegner hope to jumpstart macro change.
"These fixes are all Band-Aids," says Stegner. "The problem is the industry needs systems in place that makes it possible to be successful. Those are the kinds of discussions we want to have on a national level with women chefs and decision-makers in regions at various stages, so we can start to look at how the industry needs to evolve."
They're kicking things off with a national Zoom panel, called Re-Silience, on January 19 at noon CST. In partnership with FAB (an education and event platform for women founded by Randi Weinstein), moderator Dana Cowin will lead an important discussion with nine women in the culinary and hospitality industries (including Kim, Stegner, Gail Simmons, Shauntrice Martin, Camilla Marcus and others) on how to support working moms through mentorship, meal relief, and how women can succeed as working mothers.
Kim hopes to increase community meal relief to three or four days per week, which in turn may help working moms on multiple fronts: as meal recipients and through part-time restaurant jobs. "We've been able to hire back a working mom once a week to cook meals for the community relief program, and we have two women cooks also working in this program," she says.
It's a promising if small start for what Kim and Stegner know will be a long road toward gender parity in restaurants.
"To change the culture, we have to have more women leading and willing to lead," Kim says. "In my lifetime, I don't know that I'm going to necessarily see that parity. But if this support network gets one woman to that place of getting more opportunities, we'll leave this a better industry."
Disclosure: Chicago-based restaurant critic and freelance writer Maggie Hennessy, is a member of the Abundance Setting's advisory board.​